I have written before about the Universal Design Cottages at Greenwood project in Howard County, Maryland. Last week we had an open house. One unit is occupied. All ten cottages are sold out. These are Affordable, LEED Platinum and UD. This is a great project! I hope the approach is copied because it is very much the type of housing needed at various scales and price points. (It is not perfect- not a great walk score). I am really honored to be involved. Better photos will be taken soon, but for now I will let mine tell the story.
Floor plans and Virtual tour are available at the project website.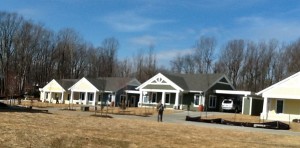 This is a few of the houses. There are ten total. See the site plan.
One of the houses. No steps at entries. Pervious concrete. Rain barrels and composters at every house.
Kitchen shows kneespace at the sink, front range controls, access to plugs and switches,  multiple height counters as well as the stained concrete floor.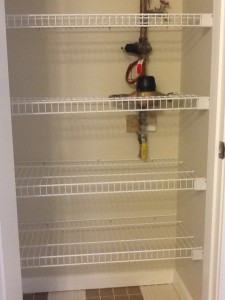 Seated access to water shutoff.
Curbless shower floor in the bathroom, easy transfer and assisted transfer space for the commode shares space with the shower entry.
Knee space in the master bath.
The hall bath has a transfer seat at the end of the tub, offset controls and extra clearance between the toilet and tub for help with transfers and room to get near the tub.
Front Load washer and dryer are included in the widened area of an already wide hall.
The icings on the cake?
1. The model will be open for a good long time so we can organize publicity and tours.
2. I just got word that Phase 2 will start design on a parcel nearby next month.
The Future is starting right away!